Alteration Services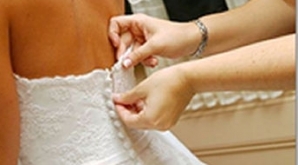 Have you purchased a new gown online or will you be wearing a loved-one's beautiful dress?
Our specialist dressmaking stores can help:
We understand the importance of this occasion and know you want to look perfect. We are experienced in bridal alterations and will use our skill to make your gown fit your individual body shape perfectly.
If you have bought your gown on the internet and need it adjusted or even remodelled come to our experienced staff for advice and help.
If you want to wear a loved one's vintage dress and it needs remodelling, come to our specialist dressmaking stores and you can trust their experience and skill.
We recommend you phone before you come in with your wedding dress so we can ensure we have the time, the right staff and the appropriate environment to be able to focus on you and your special needs on your special day.
Alter It specialist dressmaking stores are at Camberwell, Hampton, Hawthorn, Malvern, Richmond, South Melbourne, South Yarra and St Kilda.
Frequently Asked Questions