About Us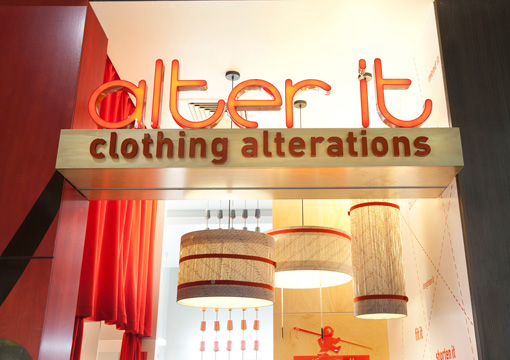 Alter It is a specialist clothing alteration service that takes a contemporary approach to the traditional crafts of tailoring and garment care. We are proud of our professionalism, expertise and attention to detail. We are committed to our customers and the speedy delivery of the comprehensive range of services we offer.
The original business commenced trading as "Alta It" in a small booth at Knox City Shopping Centre in 1992. In 2002 we took over the business with a vision of the future firmly in mind. We rebranded the business to Alter It and created the bright modern red stores that Melbourne residents recognise as their go to place for clothing alterations and related services.
Our range of services is comprehensive. Whether you need your trousers hemmed in 30 minutes, your wedding dress altered, the suit you purchased on the internet tailored, or your latest vintage purchase altered to fit, we can help.
Our stores are all modern, bright and clean with private change room facilities and our staff are trained and skilled in pinning clothes to fit your individual needs.
Today there are 21 stores located conveniently in Melbourne's suburbs. The stores are operated by motivated franchisees and skilled staff who are passionate about their trade. Every store offers the full range of alteration services and promise a 30 minute turn around on your trouser hems upon request.
In addition to clothing alterations many stores now offer a quality dry cleaning service and some offer a shoe repair service supported by one of Melbourne's best tradespeople.
At Alter It we are committed to service and ready to listen to what you need and use our skills and knowledge to help you achieve it.