Our People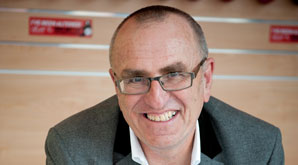 Our Managing Director and Franchisor Peter Frayman was born into a Rag Trade family. His grandfather was a tailor in Poland, and his family migrated to Australia in the 1960s and established a pleating and then quilting business in Prahran. Peter grew up with the hum of textile machinery and the adrenalin rush of the rag trade in his veins.
After finishing University, not surprisingly Peter became involved in the Rag Trade and became a major supplier of Ladies and Children's outerwear and sleepwear to many major Australian retailers. Peter's business manufactured in Australia and used the services of many skilled sub contract manufacturers, who like his parents had, were trying to build lives in their new country.
By 2000 Peter could see that the local Clothing Textile and Manufacturing Industry had little future. He sold his business and worked as a consultant to others in the Clothing Industry while he contemplated his future.
In 2002 Peter and his wife Anita (a skilled lawyer), bought "Alta It" a small clothing alteration business with a view to growing it through franchising.
The Fraymans recognised the opportunity to use their managerial and entrepreneurial talents to bring together the skills of many tailors and dressmakers who no longer had employment in Australia, and thus meet an increasing demand for a service that could not be imported.
Today Peter remains involved in the day to day running and direction of the business. He believes that the service industry is the future of small business in Australia and remains committed to growing the Alter It brand and increasing the range of services it can offer to its loyal customers.